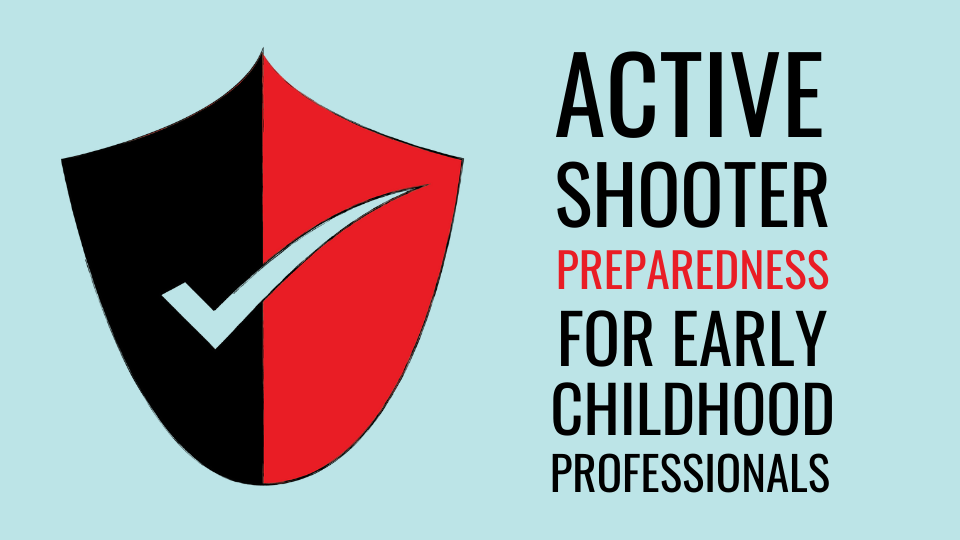 PLEASE NOTE: Google Chrome Internet Browser works best to access the courses and content. If you are having issues, please try Google Chrome as your Internet Browser.
Active Shooter Preparedness
Note: This course is taught in English. Spanish and English subtitles are available via the embedded course/video controls.
Our active shooter preparedness online training course teaches child care professionals how to increase program safety and security. Providers will gain the tools, resources, knowledge, and techniques to ensure the safety of the children in their care.
A recent survey was conducted with over 600 child care administrators nationwide. Only 20% reported preparedness as a high-level priority for their program. 90% reported being prepared for a fire, but less than half of all child care administrators reported being prepared for an active shooter situation. Our active shooter preparedness basics course will bridge that gap. Through a mix of videos, graphics, real-world scenarios, and slides, participants will feel confident and prepared for an active shooter situation.

Childcare professionals have an awesome responsibility. Not only do you provide a caring environment for infants, toddlers, and children, but you also must provide a safe and secure environment. Our active shooter preparedness basics course will teach child care professionals how to close the gap, how to be prepared before an active assailant ever enters the building, and how to move from anxious to able.
We understand that the topic of an active shooter situation is very difficult. We want to make it clear that the Institute for Childhood Preparedness never conducts unannounced drills, and we never simulate gunfire during our training. Instead, we conduct our training in a calm, safe environment. Read more about our commitment to safe active shooter preparedness training: Click Here.
Learning Goals and Objectives:
Identify the gaps in your program's security.


Describe techniques to make your program safer.

Discuss lessons from prior active shooter incidents.

Describe the typical active shooter profile.

Identify at least two ways to be prepared in advance.

Andrew Roszak-JD, MPA, EMT-P: Andrew serves as the executive director at the Institute for Childhood Preparedness, where he oversees work designed to enhance emergency preparedness, response, and recovery for early childhood professionals. He is also an adjunct faculty member at Old Dominion University in Norfolk, VA, where he helps train the next generation of public health professionals in the department of community and environmental health. Previously Roszak has served as the Senior Director of Environmental Health, Pandemic Preparedness, and Catastrophic Response at the National Association of County and City Health Officials – where he worked with the US Centers for Disease Control and Prevention and the 3,100 local health departments in the United States to increase pandemic preparedness efforts.
Ronald Roszak: Ronald serves as the Senior Safety Advisor for the Institute for Childhood Preparedness. Previously, Ron has served as a subject matter emergency preparedness expert for Child Care Aware® of America, supporting their Emergency Preparedness Team. Ronald has over 20 years of distinguished service as a law enforcement professional, including experience as a patrol officer, tactical unit supervisor, watch commander, detective, and community outreach officer.